You purchase a Net 10 phone and either call Net10 at 1-877-836-2368 from a land line or go online to Net10.com
to activate your phone. It is real easy to activate your phone, you will have to put some numbers into the "Code Entry Mode" section of your phone. The directions are simple and easy to follow online or on the phone.
When you activate a new or refurbished phone that you purchased from Net10 Wireless you will get 60 days of service and 300 Minutes upon activation.
Before your card expires or before you run out of minutes phone you need to add another card to keep your service active. You can stack your cards–add more than one at a time– and they will not run concurrently. If you put three 300 minute 60 day cards on your phone you will get 900 minutes and 180 days. With many other prepaid phone companies you would still only get 60 days.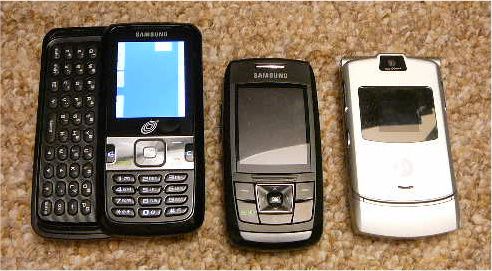 Samsung R451c Samsung T301 Slider and Motorola Razr
*Can I use my Straight Talk phone for Net10 Wireless?
No even though Straight Talk Prepaid Wireless and Net10 Wireless are owned by the the same company (America Movil) only Net10 Wireless phones will only accept Net 10 phone cards.
*Does Net 10 Minutes or Service Time Rollover?
Yes, if you run low (but not if you run completely out) on Net10 Wireless minutes and add another card the service time will be added to the service time on your phone.
The Advantages to Tracfone
The Cheapest monthly service possible. If you use very few minutes you can have an active Cell phone with Tracfone for less than $9 a month. You will have to buy a $20 phone card that is good for 90 days.
The Tracfone Yearly plans can be a good deal.
$100 per year including 800 minutes per year with DMFL. This is only 12.5 cents per minute and just over $8 per month.
The $200 Yearly Tracfone Plan with DMFL gives you 3.000 minutes (6.6 cents per minute) and it will cost you less than $17 per month.
Warning do not add minutes to your phone if you do not have DMFL. For more information on DMFL check out Tracfone DMFL.
For the Best Selection on Tracfones check out Tracfone.com
Get $3 off on any Tracfone Phone for $19.99 or more with coupon code 23444
Net10 Advantages
Net10 has the least Expensive prepaid phones. Since you always get 300 minute and 60 days of service when you activate a Net10 phone you will usually pay less for the Net10 phone than a comparable Tracfone.
Simple Ten Cents a minute plan. Buy the $30 three hundred minute card and add it to your phone. You can add a couple at a time. The service time and the minutes will stack up and roll over if you do not use them all. Monspin-022410
You do not want to run completely out of minutes or service time or you will lose your phone number and your remaining minutes or service time.
You can keep your Net10 service active for only $15 a month.
Find great savings at Net10.com
*****Google Search Box*****