The largest prepaid cell company always offers a Free Tracfone Phone at their website.  The best way to buy a Tracfone is from the website.  When you buy a Tracfone you have to buy minutes also.  If you go to the website you can get a free phone if you buy a one year card or if you buy a 450 minute card.  Often they will have a free phone with a $20 phone card also.

The Best Tracfone Free Phone
Only get a phone that comes with DMFL.  To add DMFL to a phone will cost you $50 but you can get either a Motorola W370 or an Lg 225 that come with DMFL for free with a larger denomination phone card.

The Tracfone DMFL Motorola W370 and Tracfone DMFL LG 225 Camera Phone
Why is DMFL so Important?
DMFL means Double minutes for life.  When you add minutes to a DMFL phone the minutes on the phone card will be doubled.  In effect you are buying minutes for half the price.  Never add minutes to a phone that does not have DMFL.
The Two best TracFone Deals with Free phones
The Motorola W370 with the 450 minute card for $80 or the LG 225 Camera phone with one year card for $99.99.
Buy the One year card with Free Tracfone Phone (LG 225 Camera Phone) for $100.
Buy Two Tracfones?
I would buy two Tracfone phone and card deals at the same time. Then I have a spare phone which gives me an extra phone charger and a spare battery. Also if I have a problem with the phone I have a spare phone to use. The best way to buy a Tracfone is always from Tracfone.com when you buy a phone and phone card deal. If you purchase just a Tracfone without a card you are going to have to get a minute card any way.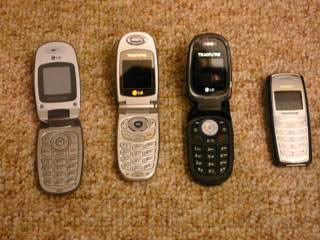 What is Tracfone Service Time?
When you add minutes to a phone you also get Service time or Activation time. With most cards you will get 90 days of activation time. As long as you keep your Tracfone Prepay service active your minutes will keep rolling over.
Do Tracfone Minutes Roll over?
By keeping minutes and service time active your Tracfone Minutes will roll over. Currently if your Tracfone service expires and you reactivate within two months you will get to keep your minutes. This rollover policy is better than almost every other prepaid phone service which do not roll over minutes or service time. If you run completely out of minutes or do not refill before your service expires you will lose your Tracfone phone number.
Your best buy is the TracFone LG 225 including the One year card for $100. By using bonus codes you will be able to get over 1000 minutes, a free camera phone, fourteen months of service.  With a contract phone you won't even get two month service for $100  by the time you pay activation fee, deposit, and buy your phone.  Check here for the latest Tracfone Bonus Codes.