Who has the Best Annual Mobile Phone Plan. There are contending plans from Tracfone wireless, T-Mobile, Net10 wireless, Verizon Wireless Prepaid, and Straight Talk.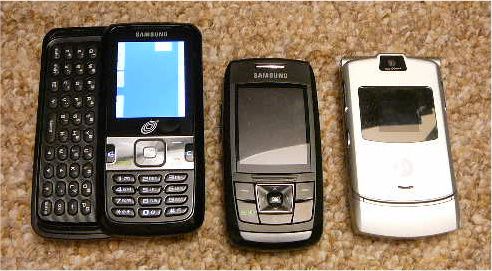 Straight Talk Samsung R451c Samsung T301 Slider and Motorola Razr
Tracfone Annual Mobile Phone Plan
Tracfone has two yearly plans. They sell a $100 one year card that you get 400 units (800 with DMFL). This card always has bonus codes available that will usually get you an extra 200 to 400 units. Check here for the latest Tracfone Bonus Coupon Codes. 800 minutes with this card gives you 12.5 cent minutes and less than $9 a month service.
Also available from Tracfone.com is a $200 yearly plan. This unit card gives you 1500 minutes (3000 with DMFL) and a year of service. With DMFL these units are 6.6 cents each and your monthly cost is under $17 a month.
With either of these plans if you run out of minutes before the year is up you are able to add more minutes by just purchasing another mobile phone unit card. Get $3 off on any phone or accessory $19.99 or more with coupon code 23444

Tracfone Motorola Razr V3 and Samsung R451c
Net10 Annual Mobile Phone Plan
Net10 prepaid wireless has a yearly plan and a Two year plan. The Net ten prepay yearly plan is $200 and you receive 2,000 units and one year of service(10 cents a minute for $16.66 per month ). If you buy six $30 Net10 prepaid cards and put them all in at one time you will get twelve months of service and 1800 units for $180(ten cents a minute for $15 per month). With Tracfone prepaid and Net 10 units and service time roll over.
The Net10 prepaid wireless two year plan costs $400 and you receive 5,000 units and two years of service(8 cents a minute for $16.66 per month). You can always purchase a $30 Net 10 unit card and get 300 minutes and two months of service. Net10 prepaid Wireless: Always 10 Cents–Local, Long Distance or Roaming
. Net 10 does not have the Best Pre pay Annual Mobile Plan but if you are averaging 150 to 400 minutes month it is a good simple program. The $30 300 minute two month card is available at Walmart, Target, 7-Eleven, Best Buy, and almost any convenience store or chain store in the US.
T-Mobile Annual Mobile Phone Plan
The T-mob plan has two options. The "Pay by the Day" plan and the "Pay as you Go" plan.
The Pay by the day plan costs you $1 per day and ten cents a minute. With this plan you receive unlimited night calling (7 pm to 7 am) and unlimited calling to T-Mobile mobile phone numbers.
The T-Mobile "Pay as you Go" plan charges different minute rates depending on how much you spend. The larger denomination cards give you more units per dollar spent. If you add a $10 minute card you will pay 33 cents a minute. With the $25 unit card you will pay 19.5 cents a minute. With the $50 minute card you pay 12.5 cents a minute. If you buy a $100 card you will get 10 cent minutes.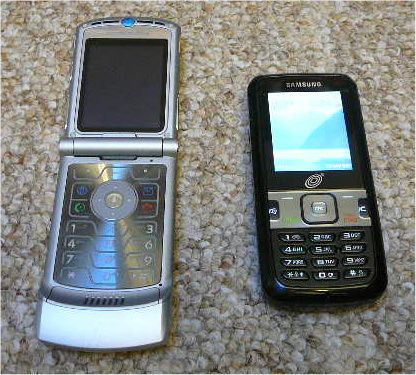 T-Mobile Pay as you go Annual Cell Service time
Any time you add a $10, $25 or $50 card you will get 90 days of service time. Once you have added $100 to your T-Mobile prepaid yearly cell plan you will have one year to use your minutes.
T-Mobile Pre-paid Yearly Cell Strategy
The best strategy to use with T-mobile is to add $100 to your plan when you start it. Then add $100 cards when you are low on units. The $50 minute card is not a bad deal after you have added $100. The $10 and $25 cards should never be added because your cost per minute is so high. T-Mob used to have the Best Pre-paid Yearly Mobile Plan but Tracfone prepaid and Net10 prepaid now have less expensive options.
Web Only Deal: Free Samsung cell phone at T-Mobile.com!
Verizon Wireless Prepaid Annual Mobile Phone Plan
The Verizon plan is virtually the same as the T-Mobile plan. With a Verizon Prepay Yearly Cell mobile you can add a $100 minute card and have service for one year. The basic per minute rate is 25 cents a minute. The Core plan is 99 cents a day and that gives you unlimited calling to other Verizon numbers. After the 99 cent daily charge you will pay 10 cents a minute to any non Verizon Wireless number. Verizon does not have the Best Pay as you go Yearly Mobile phone Plan. The only reason to use the Verizon Prepay Yearly Mobile phone cellular phone is if you are only using the mobile phone occasionally and you are always talking to other Verizon wireless phones.
Straight Talk Yearly Plan
Straight Talk does not really have a Yearly plan but you could stack 12 monthly cards. The $30 per month cards would cost $360 per year. The units will not stack, you will only be able to use 1000 units per month or you would start using the next months service. Straight Talk and Text Nationwide Plus 30 MB of data for only $30 a month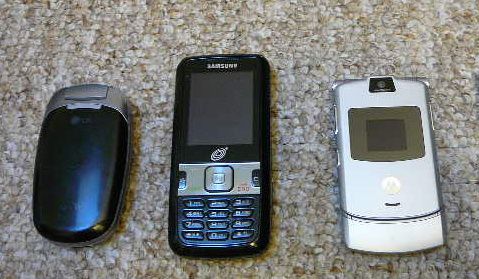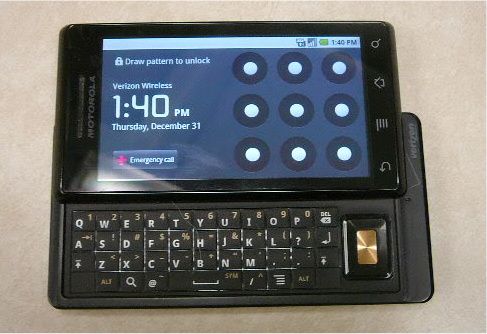 Motorola Droid from Verizon
Straight Talk $45 Unlimited Plan
Straight talk has a Pre pay Annual Mobile phone Unlimited Calling, Text, and Data plan for $45 per month. The phones range from a $30 basic LG cellular phone to $330 for Samsung Finesse smartphone. For more information check Straight Talk Frequently asked Questions. Straight Talk Prepay Yearly Mobile phone phones operate on the Verizon Network. The Unlimited Straight Talk yearly plan would be $540 per year. The Straight Talk $45 Monthly plan is the best prepaid annual cell phone plan with Nationwide unlimited units, text and data.
The Best Annual Mobile Phone Plan
For My Money the Best Prepay Yearly Cell phone Plan is the the Track phone $200 3,000 minute (with DMFL) plan. This is only available from Tracfone.com. The units roll over and you pay 6.6 cents per minute and $16.66 per month.
The $100 per year Tracfone prepay plan is a pretty good deal also but the units are more expensive at 12.5 cents.
Net10 yearly minutes are ten cents each and your yearly charge will be $200.
The T-Mobile Yearly Plan is simple. You buy the $100 unit card and your service will stay active for up to 12 months as long as you do not run out of units. The units will cost 10 cents.
Tracfone Annual Plan Gets the Nod
The Best Annual Mobile Phone Plan from Tracfone gives you a lot of flexibility. If you do not use all of your minutes they will roll over if you keep your service active. If you have a lot of units left over you can purchase $20 phone cards that will give you three months of service. If you run out of minutes you can always add minute cards and pay between 6.6 cents and 17 cents a minute with DMFL.
Check out the Best Yearly Cell Plan
Net10 vs Walmart Straight Talk
Straight Talk LG 200c Prepaid Wireless
Tags: Annual Phone Plans